After the Second World War, the company abandoned Helen Street and bought the two Shadow Factories. Acocks Green carried on for a while making Meteor engines for tanks and Solihull became the new centre for vehicles with production resuming in 1947 and would become the home of the Land Rover.
In 1950, designer F. R. Bell and Chief Engineer Maurice Wilks unveiled the first car powered with a gas turbine engine. The two-seater JET1 had the engine positioned behind the seats, air intake grilles on either side of the car and exhaust outlets on the top of the tail. During tests, the car reached top speeds of 88 mph (140 km/h), at a turbine speed of 50,000 rpm. The car ran on petrol, paraffin or diesel oil, but fuel consumption problems proved insurmountable for a production car. It is currently on display at the London Science Museum. 
Rover and the BRM Formula One team joined forces to produce a gas turbine powered coupe, which entered the 1963 24 hours of Le Mans, driven by Graham Hill and Richie Ginther. It averaged 107.8 mph (173 km/h) and had a top speed of 142 mph (229 km/h).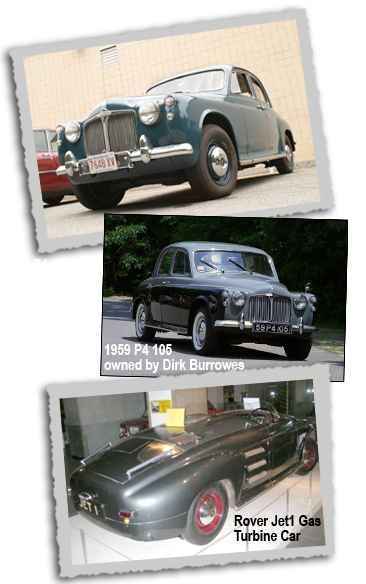 The Golden Years
The 1950s and '60s were fruitful years for the company, with the Land Rover becoming a runaway success (despite Rover's reputation for making up-market saloons, the utilitarian Land Rover was actually the company's biggest seller throughout the 1950s, '60s and '70s), as well as the P5 and P6 saloons equipped with a 3.5L (215ci) aluminum V8, the design and tooling of which was purchased from Buick, and pioneering research into gas turbine fueled vehicles.